Meaningful Ceasefire?
June 20, 2018
Summary: President Ghani takes a bold gamble by announcing a unilateral government ceasefire.  The Taliban, to the surprise of many, responded similarly, resulting in an unprecedented three day cessation of hostilities.  The positive, optimistic and highly emotional response from all Afghans was overwhelming, heightened by a highly public and popular pro-peace march from Helmand to Kabul.  Despite Ghani announcing an extension to the ceasefire, the Taliban appeared to have resumed fighting.  The Taliban claim that the ceasefire proved Taliban's discipline and unity and their wide support from the population.  This latter claim is dubious and the Taliban may struggle to sustain a summer offensive if the population is so demonstrably protesting against them.  The powerful popular embrace of the ceasefire is unlikely to be forgotten and the Taliban now appear strategically wrong-footed.  It takes the country into uncharted waters with a whole range of "what ifs"…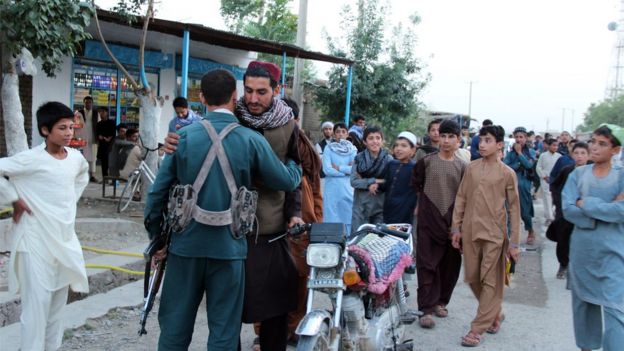 In terms of insurgent violence, 2018 started particularly unpleasantly in Afghanistan, with multiple indiscriminate terror attacks from the Taliban and Islamic State striking the capital, as well as insurgent operations across the country.  However, in February, there was a minor flurry of peace "chatter".  The Taliban wrote a "letter to the American people", calling for dialogue with the US in what looked like an attempt to pressurise the United States by bypassing the government and appealing to the citizens directly.  The Afghanistan expert, Barnett Rubin, had some media exchanges with the Taliban, criticising the group for failing to engage with the Afghan government.  The Taliban's parting shot seemed to rule out any option for a ceasefire: "unless US talks directly to Taliban about ending occupation, no meaningful ceasefires or dialogue b/w Afghans can take place."
On 28 February, President Ghani reached out again to the Taliban, offering condition-free talks, political recognition and possible prisoner releases in exchange for a ceasefire.  The Taliban's response appeared cool.
In late March, more terror attacks saw the emergence of a hitherto unseen element in Afghanistan: a small grassroots anti-war protest movement originating in Helmand province, seemingly in spontaneous response to a terrorist bombing of wrestling match in Lashkar Gah on 23 March.  Around 13 people were killed and dozens wounded at a wrestling match.  The protest gathered a very positive media profile.
"Something remarkable is happening in the Taliban stronghold of southern Afghanistan. The people of Helmand province are protesting against the war and asking the government and the Taliban to stop killing civilians.

This protest would be less remarkable if it were a generic call to peace. Instead, the men and women of Helmand are planning to take the call to the Taliban, announcing that they would march to Taliban-held territory to press for their demands for a ceasefire and civilian protection. This is an act of immeasurable courage in an area where people strive to appear neutral between the government and the Taliban just to survive.

But if this movement had to come from anywhere in Afghanistan, it would be Helmand. The province has been one of the areas hardest hit by the bloody war that is increasingly preying on women and children." 
Over the years, several sporting and public events have been targeted in Helmand and Kandahar.  But this incident became a catalyst for a local outpouring of war-weariness and anger against the continual civilian casualties inflicted by, primarily, the Taliban.  A "Helmand Peace March", formed initially from small numbers of Helmandis, started a march that ultimately carried them to Kabul.  The media amplified this initiative which looked to be a genuine grassroots gesture of exasperation and anger at the continued conflict:
"People across Afghanistan have expressed their support of the Helmand protestors and lawmakers in Afghanistan's parliament also came out in support of the move.  Last week dozens of women from Helmand joined the protest by setting up their own sit in camp, alongside the men's, outside the stadium in Lashkargah City.  The sit-in protest was launched following a deadly suicide car bombing near Ayub Khan Stadium last month, when spectators were leaving a wrestling match. At least 16 people were killed and almost 50 others were wounded in the explosion."
By April, this had become a clear, strong, statement against indiscriminate violence.  As the movement gained momentum, the Taliban, on 25 April, announced their annual spring offensive, promising (and delivering) renewed terror attacks.  The capital of Farah province, in south-western Afghanistan, fell briefly to the Taliban on 15 May.  On 18 May the Taliban issued a statement that some media wrongly interpreted as a call for a ceasefire but which in reality was an attempt to cause defections amongst the ranks of Afghan government forces:
"Due to the very high number of casualties being suffered by the Kabul administration police and other forces (forecasted to increase even further) that naturally entails more grief and sorrow for the Afghan families hence the Islamic Emirate – to establish final proof – declares a general amnesty to all military formations, national army, national police, Arbakis and all employees of the regime to safeguard their lives and wealth."
In late May, the US commander in Afghanistan, General Nicholson, said that behind the scenes discussions between the Taliban and the government were ongoing.  This didn't really help much – it is reasonable to work on the assumption that the Taliban and Afghan government have lines of communications open more or less all the time.  There was a slight sense that the Taliban were considering Ghani's offer.  By Taliban standards this was positive enough in itself, but on 4 June, a suicide bomber struck a large gathering of Muslim clerics in Kabul.  They were gathered to issue a fatwa (Islamic ruling) against suicide bombing attacks.  At least seven were killed.
On 7 June, President Ghani announced that Afghan government forces were to respect a unilateral and unconditional seven day ceasefire over Eid, from 12 to 20 June.  The Taliban were invited to reciprocate.  Rather than outright rejection of the offer, the Taliban said they were considering it.  On 9 June, the Taliban announced a shorter, three-day, ceasefire from 15 to 17 June.  These three days would overlap with the government ceasefire.
 "In order that our countrymen participate in Eid prayers and other festivities with complete confidence during the joyous days of Eid, the Mujahideen of Islamic Emirate must strictly comply with the following directives: 1 – All Mujahideen are directed to cease all offensive operations against the domestic opposition forces during the first, second and third day of Eid"
The Taliban were very keen to emphasise that they had not been under pressure from anyone do call a ceasefire.  During the government part of the ceasefire, there was considerable scepticism about the Taliban's intentions, particularly as the Taliban continued to launch attacks.  However, the Taliban honoured their ceasefire and this gave rise to genuinely unprecedented scenes of Taliban intermingling with citizens and government forces in the cities in displays of friendship and happiness.  Celebration spread rapidly: to many observers, Afghan and international alike, it was perhaps difficult to understand the warmth of the embraces between such bitter opponents.  Tajik politician, Amrullah Saleh, warned that the rapid and uncontrolled movement of Taliban into the city to meet their fellow countrymen might presage a Taliban "Tet Offensive" surprise attack.
President Ghani attempted to capitalise and extend upon this successful initiative.  He announced the government side of the ceasefire would be extended by another ten days, to 30 June.  The Taliban rejected this.  Their ceasefire ended on 17 June (as the Helmand Peace March symbolically arrived in Kabul) and attacks were once again being recorded on 18 June and beyond.
What does it mean?  A few thoughts.
The war-weariness of the population (and willingness to embrace Taliban fighters in spite of everything) was self-evident.  The popularity of this brief pause from the fighting was clear.  We seem to be returning to "normal" levels of conflict, but Kate Clark of the Afghanistan Analysts Network convincingly argues that this genie cannot be put back in the bottle.  President Ghani should get credit and support for his initiative – and he should push for other ceasefires and reach out further to the Taliban.  Credible international interlocutors (UN, NGOs, international experts, such as Barnett Rubin, and academics) could also support this.  The US-led military coalition, already a greatly reduced force from its peak in 2011, could explicitly link reduction in fighting levels to a reduction in foreign military presence – the Taliban's main objection.  This can be a building block to confident and credible negotiations between Taliban and government.
For the Taliban, this is probably given them cause for some urgent re-appraisal, given all they have to offer this summer is more of the same bombing and killing – in a conflict which, since 2014, has been overwhelmingly one of Afghan Muslim against Afghan Muslim.  Further popular spontaneous protest against them will not be a good look.   Although they claim (with little justification) that the ceasefire showed the high level of popular support for the Taliban, they may privately understand that this was mostly a government and people unified against them and that the "popularity" they point to was directed more at low level fighters willing to embrace their fellow citizens rather a gesture of support for the Taliban's ethos and methods.  How does this impact on their approach this year?  We might expect some caution over targeting overtly civilian targets and some quick denials if Islamic State launch indiscriminate attacks – as they surely will.
The ceasefire and the popular reaction to it seemed to take most actors by surprise.  It was rapid and chaotic.  This can be both helpful and unhelpful.  It shows unambiguously what can be achieved if there is popular support that sends a clear message against violence.  It showed that there needn't be a break down into a welter of small and large shooting violations.
But ceasefires can be spoiled easily – by Pakistan (whose relationship with the Taliban still remains opaque and suspect), Islamic State, rogue groups or by simple misunderstanding.  The two isolated terror incidents that took place in Nangarhar during the ceasefire were likely by Islamic State.  Spontaneous intermingling of less-than-disciplined armed groups holds the prospect of accidental or intentional outbreaks of shooting.  Amrullah Saleh's fear of a "Taliban Tet", as a result of hundreds of Taliban entering and re-entering government held towns and cities doesn't seem to have materialised – this time.  But a new ceasefire might not be so straightforward next time: spoilers may be better placed to initiate disruption.
The risks of spoilers notwithstanding, Afghanistan might now see more grassroots peace initiatives.  The Helmand Peace March might continue – perhaps even formalising itself into some kind of quasi-political lobbying movement.  Or new national and local movements may develop.  This is positive but might point to a loss of control over the process by government and Taliban.  There is also the chance of local insurgent infighting: there has already been a report of local Taliban wanting to continue a ceasefire against the instructions from the Taliban leadership.  Perhaps spontaneous local ceasefires might become the new normal?
The Taliban have made two big claims about the ceasefire from their perspective.  The first is probably true: that it shows the control that the Taliban leadership have over its disparate groups of fighters by organising and enforcing such a nationwide cessation of hostilities.  The second claim, that it demonstrates how popular the Taliban are in the hearts and minds of the people, is absolutely false.
Even if the conflict continues in its current form for years (which, regrettably, is still a very plausible outcome), this unique ceasefire released an optimistic outburst from the Afghan population that will be remembered for a long time.  It could well be seen as the "tipping point" that analysts point to as the moment that an end to the conflict became possible.
Particular developments to watch out for in the coming weeks:
Spoiler activity
Emergence of more grassroots movements and local ceasefire deals
Tensions within the Taliban
Taliban statements about talks
Timeline:

January – spike of terror attacks in Kabul

14 February: Taliban issue "letter to the American people"

23 February: Barnett Rubin: "Thesis on peacemaking in Afghanistan"

26 February: Taliban state they are prepared to enter talks with the United States

27 February: Rubin response to Taliban:

"The flaw in your call for dialogue is that it is addressed only to Americans, not your fellow Afghans. You accuse Afghans opposing you of "committing treason against our nation," but the government of Afghanistan, corrupt and divided as it may be, is recognized by every nation in the world—not just Washington and its allies. Your dialogue with the U.S. government cannot replace dialogue with that government"

27 February: Taliban respond to Rubin:

"If we agree on ending occupation, talks b/w Afghans with or without international mediation will bear fruit." https://twitter.com/balkhi_04/status/968737785275396096>

28 February: Ashraf Ghani offers peace deal to Taliban.  Offers political framework for peace dialogue with a ceasefire and Taliban recognised as a political group.  Taliban must respect law, Taliban prisoners may be freed and names struck off blacklist.

"The offer, made at the start of an international conference aimed at creating a platform for peace talks, adds to a series of signals from both the Western-backed government and the Taliban suggesting a greater willingness to consider dialogue.

Ghani proposed a ceasefire and a release of prisoners as part of a range of options including new elections, involving the militants, and a constitutional review as part of a pact with the Taliban to end a conflict that last year alone killed or wounded more than 10,000 Afghan civilians.

"We are making this offer without preconditions in order to lead to a peace agreement," Ghani said in opening remarks to the conference attended by officials from around 25 countries involved in the so-called Kabul Process.

"The Taliban are expected to give input to the peace-making process, the goal of which is to draw the Taliban, as an organisation, to peace talks," he said, adding that he would not "pre-judge" any group seeking peace."

Pasted from <https://www.reuters.com/article/us-afghanistan-taliban/afghanistans-ghani-offers-talks-with-taliban-without-preconditions-idUSKCN1GC0J0>

1 March: RFE/RL, The Afghan Taliban gave a cool reception to President Ashraf Ghani's offer of political recognition and a truce while representatives from more than 20 countries voiced support for his peace plan.  https://www.rferl.org/a/afghan-taliban-cool-ghani-peace-offer-while-20-countries-kabul-process-support-it/29069945.html>

12 March: the Diplomat – Taliban "studying the proposal"  Fruitless or a Breakthrough? Making Sense of Ashraf Ghani's Peace Offer to the Taliban: Is the Afghan president's bold gambit doomed to failure?…a Taliban leader reportedly stated that, "the United States and Afghanistan have to pitch realistic and non-bullying peace proposals. The Taliban are willing and ready to give a careful read to sensible proposals." Pasted from <https://thediplomat.com/2018/03/fruitless-or-a-breakthrough-making-sense-of-ashraf-ghanis-peace-offer-to-the-taliban/>

23 March: A suspected suicide bomber has killed at least 13 people and injured dozens more in a car bomb attack on a sports stadium in the Afghan province of Helmand.

The blast happened at a wrestling match at the Ghazi Muhammad Ayub Khan stadium in the region's capital Lashkar Gah. Pasted from <https://www.bbc.com/news/world-asia-43519692>

27 March:  Uzbekistan  called on the Taliban insurgent group to accept a ceasefire and offered to host peace talks between the Afghan government and the insurgent group.

Pasted from <https://ariananews.af/tashkent-calls-on-taliban-to-accept-ceasefire-join-peace-talks/>

2 April: Helmand Peace Protest Gathers Momentum

"People across Afghanistan have expressed their support of the Helmand protestors and lawmakers in Afghanistan's parliament also came out in support of the move.  Last week dozens of women from Helmand joined the protest by setting up their own sit in camp, alongside the men's, outside the stadium in Lashkargah City.  The sit-in protest was launched following a deadly suicide car bombing near Ayub Khan Stadium last month, when spectators were leaving a wrestling match. At least 16 people were killed and almost 50 others were wounded in the explosion."  https://www.tolonews.com/afghanistan/helmand-peace-protest-gathers-momentum>

7 April: Pakistan calls on Afghan Taliban to join peace process.  Prime Minister Shahid Abbasi urges Taliban to avail the Afghan government's latest offer of direct talks without delay. https://www.aljazeera.com/news/2018/04/pakistan-calls-afghan-taliban-join-peace-process-180407114254621.html>

21 April: Grass roots peace movement in Helmand – Peace Springs in Taliban Heartland?  The Taliban should heed a grassroots movement demanding an end to civilian casualties. https://thediplomat.com/2018/04/peace-springs-in-taliban-heartland/>

"Something remarkable is happening in the Taliban stronghold of southern Afghanistan. The people of Helmand province are protesting against the war and asking the government and the Taliban to stop killing civilians.  This protest would be less remarkable if it were a generic call to peace. Instead, the men and women of Helmand are planning to take the call to the Taliban, announcing that they would march to Taliban-held territory to press for their demands for a ceasefire and civilian protection."

Pasted from <https://thediplomat.com/2018/04/peace-springs-in-taliban-heartland/>

25 April: Taliban announcement Spring offensive "Al Khandaq"

15 May: The Taliban claimed to have captured the capital of the western province of Farah on Tuesday, while government officials and their American military backers vowed that the authorities would quickly oust insurgents from the city, the first to be overrun by the militants in two years.

Pasted from <https://www.nytimes.com/2018/05/15/world/asia/afghanistan-taliban-farah-.html>

18 May: Taliban issues "amnesty" to any govt forces that defect.

Statement of Islamic Emirate regarding amnesty for Kabul administration employees seeking surrender

"Due to the very high number of casualties being suffered by the Kabul administration police and other forces (forecasted to increase even further) that naturally entails more grief and sorrow for the Afghan families hence the Islamic Emirate – to establish final proof – declares a general amnesty to all military formations, national army, national police, Arbakis and all employees of the regime to safeguard their lives and wealth."

Pasted from <http://alemarah-english.com/?p=29198>

31 May: Senior Taliban officials have been secretly negotiating with Afghan officials on a possible ceasefire, the commander of US and NATO forces in Afghanistan disclosed Wednesday.

"A lot of the diplomatic activity and dialogue is occurring off the stage, and it's occurring at multiple levels," General John Nicholson said in a teleconference with reporters at the Pentagon. He would not identify the figures involved in the negotiations, except to say that they included mid- and senior-level Taliban officials.  Pasted from <https://nation.com.pk/31-May-2018/taliban-afghan-officials-in-ceasefire-talks-us-general>

4 June: Muslim Clerics Bombed Hours After Declaring Fatwa on Suicide Attacks in Afghanistan

"A bomber killed at least seven people in an attack on a gathering of the country's top Muslim clerics, on the same day the organization declared an Islamic ruling against suicide attacks.

The Afghan Ulema Council was meeting in Kabul on Monday when the attacker struck, detonating his explosives at the city's Polytechnic University where the council was meeting, the Associated Press reported."

Pasted from <http://www.newsweek.com/muslim-clerics-bombed-hours-after-fatwa-suicide-attacks-afghanistan-956104>

7 June: Ghani announces 7 day unconditional ceasefire for the end of Eid celebrations from June 12 to June 20

9 June:  Taliban order 3 day countrywide ceasefire: "In order that our countrymen participate in Eid prayers and other festivities with complete confidence during the joyous days of Eid, the Mujahideen of Islamic Emirate must strictly comply with the following directives: 1 – All Mujahideen are directed to cease all offensive operations against the domestic opposition forces during the first, second and third day of Eid"

Pasted from <http://alemarah-english.com/?p=30187>

15, 16, 17 June: Taliban and Afg govt overlapping period of ceasefire

16 June: President Ghani extends govt ceasefire and asks Taliban to do the same

Ashraf Ghani‏Verified account @ashrafghani

"We also request the Afghan Taliban to extend their ceasefire. During the ceasefire, we will provide medical assistance to the wounded Taliban, and will provide them any humanitarian assistance if needed,. Taliban prisoners will also be allowed to contact and see their families."

Pasted from <https://twitter.com/ashrafghani/status/1007994335995056128?ref_src=twsrc%5Etfw&ref_url=https%3A%2F%2Fwww.bbc.com%2Fnews%2Fworld-asia-44507090>

16 June: Amrullah Saleh highly critical of ceasefire, warns of Taliban "Tet offensive":

"All 12 instruction of @ashrafghani to ANDSF & d governors in regards to d ceasfire hv been violated.If this ceasfire ends 4 any reason it will mean a TALIBAN TET OFFENSIVE.  Countless armed Tlbn are in cities. ANDSF havn't gone to their territory.They hv infiltrated the NUG space."

Pasted from <https://twitter.com/AmrullahSaleh2/status/1008023923437527041>

17 June: Taliban reject ceasefire extension

"A suicide bombing in the eastern Afghan city of Jalalabad on Sunday killed at least 10 people during a holiday ceasefire which was further marred after the Taliban said it would not extend the truce ending at midnight". http://www.france24.com/en/20180617-afghanistan-ceasefire-taliban-president-peace-council>

June 17: Taliban claim their ceasefire shows that they are a nationally strong movement and that it demostrated how popular they are amongst the people:

"In order that our countrymen may celebrate their Eid festivities in ease and comfort, the Islamic Emirate announced and successfully implemented a three day ceasefire. This ceasefire was not in response to the ceasefire of the Kabul regime but was announced for the wellbeing of the nation and has to an end tonight.  Mujahideen throughout the country are ordered to continue their operations against the foreign invaders and their internal puppets as before."Pasted from <http://alemarah-english.com/?p=30455>

June 17: Afghan peace convoy arrives in Kabul –

"Afghan peace activists have arrived in Kabul after trekking some 700 kilometers on foot calling for an end to Afghanistan's nearly 17-year war.  The Helmand Peace Convoy reached the Afghan capital early on June 17 chanting slogans including "We want peace" and "Stop the war, after traveling for more than a month. The march kicked off in Lashkar Gah, the capital of Helmand Province, which is largely under Taliban control.

It began with a group of nine men and picked up around 40 supporters during the journey."

Pasted from <https://www.rferl.org/a/peace-convoy-arrives-in-kabul-after-700-kilometer-march/29294431.html>

17 June: Reuters

"The Afghan Taliban said their three-day Eid ceasefire, which ends on Sunday, proved the unity of their movement and its 'wide national support' as the presidential palace extended its own ceasefire with the militants by 10 days." Pasted from <https://www.reuters.com/article/us-afghanistan-taliban/eid-ceasefire-proved-wide-support-for-afghan-taliban-they-say-idUSKBN1JD02Z>

June 18: Taliban attack Afghan police in Tagab district of Kapisa

"Early on June 18, Taliban fighters attacked police posts in the eastern province of Kapisa's Tagab district, leaving two police officers wounded, the provincial deputy police chief said."

Pasted from <https://www.rferl.org/a/peace-convoy-arrives-in-kabul-after-700-kilometer-march/29294431.html>